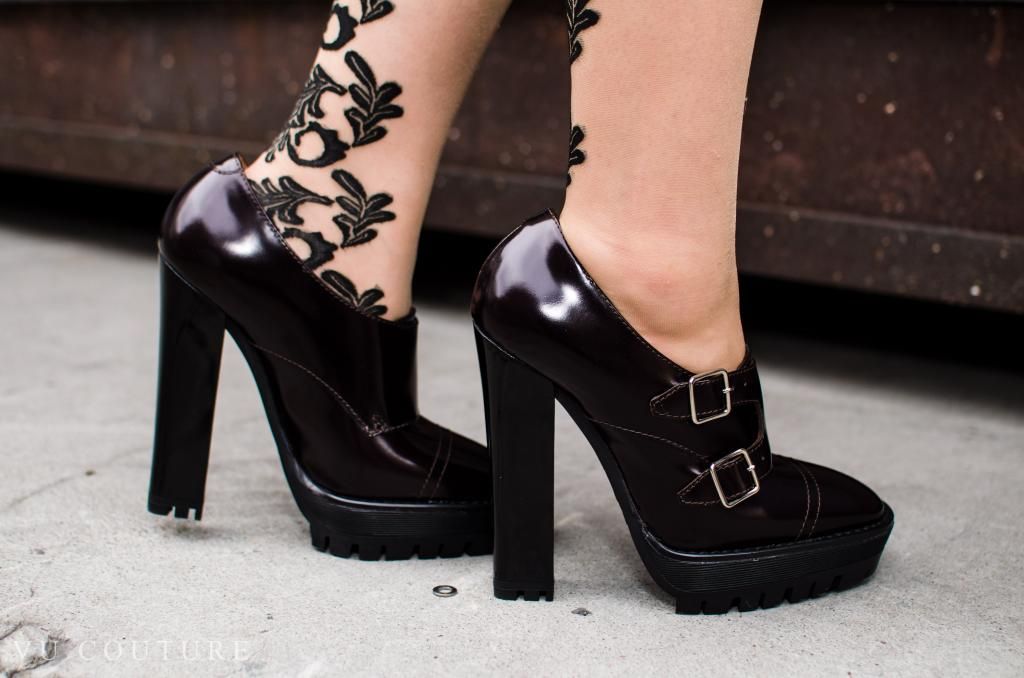 (
Vintage velvet crossover top, ASOS ponti mini skirt with belt, Burberry Prorsum A/W'10 Brogues, Sportsgirl henna stockings, Vintage patent faux Alligator clutch, Sportsgirl leather cuff, YSL Arty oval ring
)
I decided to take the plunge and cut my hair even though I've painfully tried to grow it ideally at waist length. But after waiting so long for my hair to reach that point, I've been desperate for a change and long-due for a new do! Sporting straight mid-lengths cuts have been extremely popular recently, particularly with the 90s making its big return with general minimalist aesthetics. Even prior to my chop, I've been wildly obsessing over
minimalistic looks with basic yet eccentric cuts, from shift tops and dresses, to sandal heels and plenty of crisp whites blocked with minimal brights, particularly neon's.
Velvet had always been one of those iffy fabrics I would usually avoid wearing purely because it'll make you look bigger than you usually are, but there was always potential in this vintage velvet crossover top I picked up over a year ago. The exception here is that crossover necklines are flattering for all shapes, particularly for curvier girls as they

accentuate the best assets by creating structure for the
well-endowed and cinching the waist. A

s for slimmer girls with a more athletic body structure the crossover
creates the illusion of a waist. This vintage velvet top was a perfect match for my new ponti skirt - A very 90s inspired combination of black and white, with my new straight hair chop.
Although I haven't worked up enough courage to go any shorter just yet, but after growing so fond of my new hair cut in the last couple of days I feel like I might take another risk and go just a tad bit shorter. What do you guys think, should I go any shorter?