(Leather, smooth steel bar belt - from eBay)
(Image source: jayjayne.com)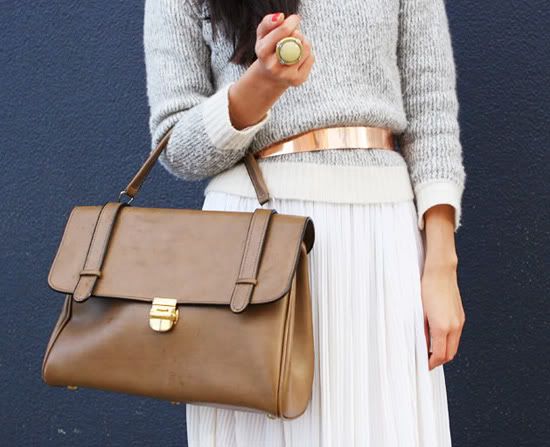 (Image source: garypeppervintage.com)
(Image Source: tuulavintage.blogspot.com)
(Image source: http://apair-andaspare.blogspot.com.au/2012/01/diy-metal-belt.html)
After beginning to spot the steel bar belt appear all across the fashion blogging world, I fell in love and knew that my future outfits would be incomplete without having one to throw on! There's just something about simplistic smooth metal accessories lately that I feel like I just have to get my hands on - from plain steel chokers, to cuffs, to this belt!
Biggest blogger influences with this belt trend would definitely be credited to gorgeous Sydney based bloggers
Nicole Warne
from
garypeppervintage
,
Tuula
from
tuulavintage
, and even
Geneva
from
apair-andaspare
who had definitely inspired me to also DIY my own version (that's only when I manage to find the time and patience too of course hehe). For now, I'm trying to not get ahead of myself with this belt by overusing it with every outfit lately haha... Although I'm already hoping to find another one in silver too!
The best looks which works well with this belt in my opinion? Usually thrown over light flowy and feminine fabrics such as chiffon, is always a big tick! I'm intending on wearing this belt over particular styles such as tulip dresses/skirts, maxi dresses/skirts, or even cross-over wrap dresses.
Something about this all essential belt simply screams 'girl power', yet reminds me of something Wonder Woman or other super hero-like figures would often wear - it tends to feel like that when I'm also wearing both my gold cuffs on haha!